EDIT MAIN
Russellville Junior High Library
---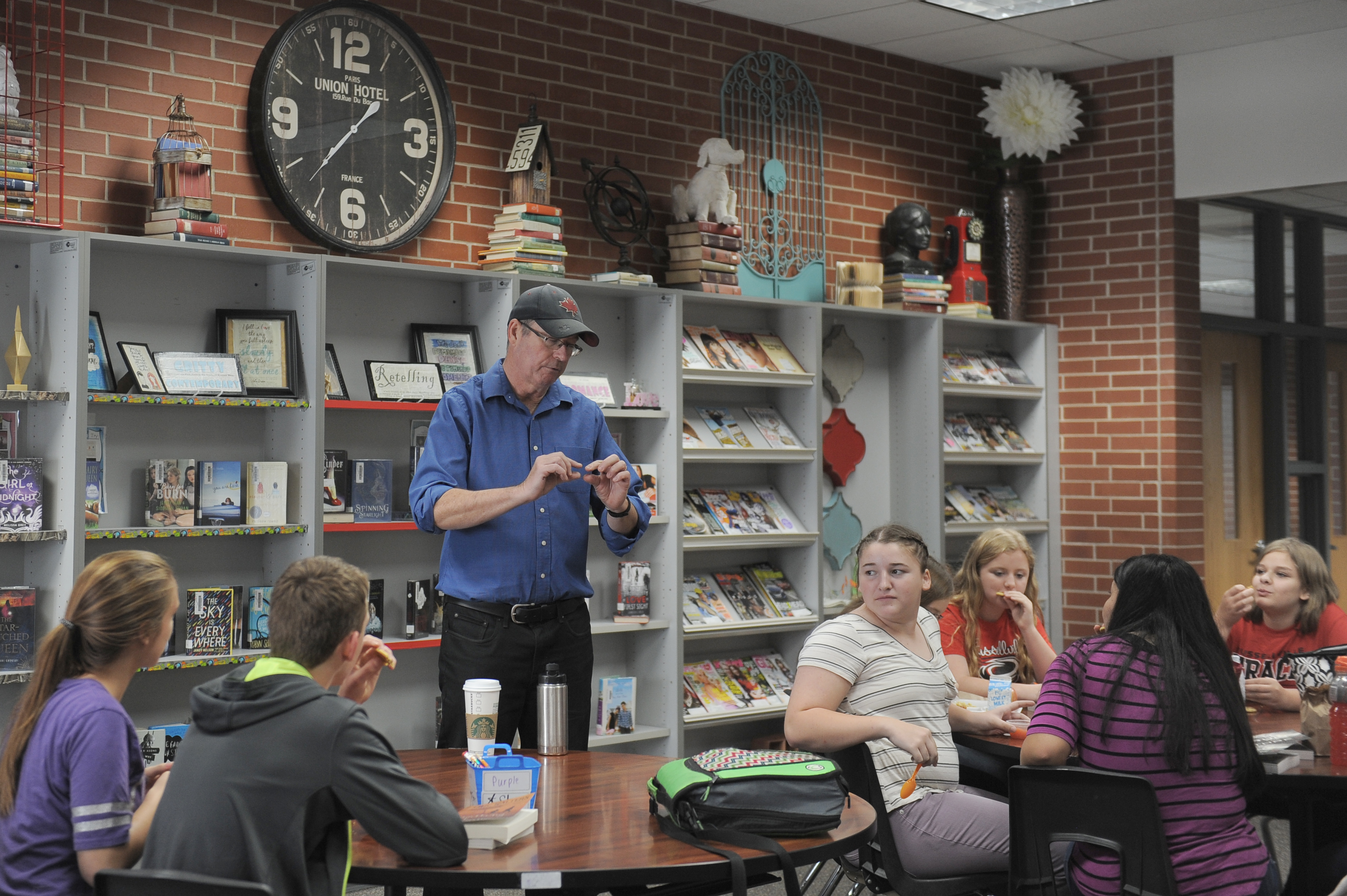 Author Eric Walters visits with RJHS students about his books.
Library Information
Library Media Specialist, Jessica Baldwin
Library Clerk Typist, Ronda Khamsourivong
Library Details
Welcome to the Russellville Junior High Library. We are located at the center of the Junior High, where we connect the eighth and ninth-grade sides of the school. Because of this, we really do consider our library space the central "hub" of the school. RJHS students visit the library through their English classes on a two-week rotation. However, the library is open for students to use each day, as long as students have an appropriate teacher pass to visit.
Once a month, during one of the English class visits, we offer a Book Talk Coffee Shop to our students. Students love to visit our coffee shop for hot cocoa, cappuccino, or coffee ($1.00 each) to enjoy during their library visit. The library also coordinates a reading incentive program called the Library Lottery and Raffle. For this program, students are asked to briefly book-talk when they finish a book, and they receive points for what they read. At every 25 point increment, students earn a scratch off "Library Lottery" ticket, entitling them to a prize.At 50, 100, and 150 points, students earn extra incentives to read, such as a movie or lunch in the library. Students also receive a raffle ticket for each 25 point increment. They put their name on the ticket and it goes into a raffle for the "Big Prize Giveaway" at the end of each semester. The more book-talks a student gives, the more chances they have to win! The prizes in the giveaway might include a TV or an iPad or gift cards.
Every Friday, ninth grade students are invited to bring their lunch in the library to attend our Book Talk Club, where we meet to discuss the great books we have been reading.
RJHS students may borrow three books at a time from the library. Students may keep the books for two weeks, at which time they should return or renew the books. Failure to return or renew will result in a five cent per-day fine.
Additionally, RJHS students have free access to our online library of e-books, Overdrive. Students may borrow up to five titles or audio books through our Overdrive online library or app.